MY CINEMATIC ROMANCE #13 – MIKE LEIGH
There is no way a mere simple page of words from my keyboard can do justice to the decades of incredible theatrical, televisual and cinematic work of the genius that is Mike Leigh. He has, since the 1960s, worked tirelessly creating: drama, comedy, pathos, empathy, love, hatred, politics, harmony, conflict, nihilism and hope through an orchestra of characters and creative endeavour.
For me Mike Leigh is a true artist. He has not only been involved in innumerable film, TV shows and plays since the 1960s but also created his own production modus operandi in the process. He is rightly well regarded for working intimately with his actors organically creating character and stories from the kernel of an emotion or idea. His works are legion and often feature representations the working or under-classes. There are no superheroes or special effects but rather raw emotion and feelings within his body of work.
The My Cinematic Romance series has always sought to praise filmmakers and actors I really love and Mike Leigh is no different. I would have to say though that to pick FIVE of my favourite works is an impossible task as there is so much choice. Nonetheless, these are five of my favourite Mike Leigh works but do check out any of his films as they have much to say about humanity and life and are also very entertaining in their own inimitable style.
**CONTAINS SPOILERS**
ABIGAIL'S PARTY (1977) – BBC TV PLAY
Opening as a stage play in 1977, the seminal tragic-comedy Abigail's Party sold out for months at the Hampstead Theatre when first released. A filmed TV version was released later to much acclaim that year and starred: Alison Steadman, Janine Duvitski, John Salthouse, Thelma Whiteley and Tim Stern. It's a comedy of crumbling relationships featuring the passive aggressive clashes between the aspirational classes. The performances, notably from Steadman as the brash and formidable Beverley, are astute, over-the-top but somehow hilariously nuanced too. Moreover, the barbed dialogue and bitchy asides are perfectly delivered during a dinner party that, once seen, will have you laughing throughout. But, like much of Leigh's work, by the end you somehow feel sad too.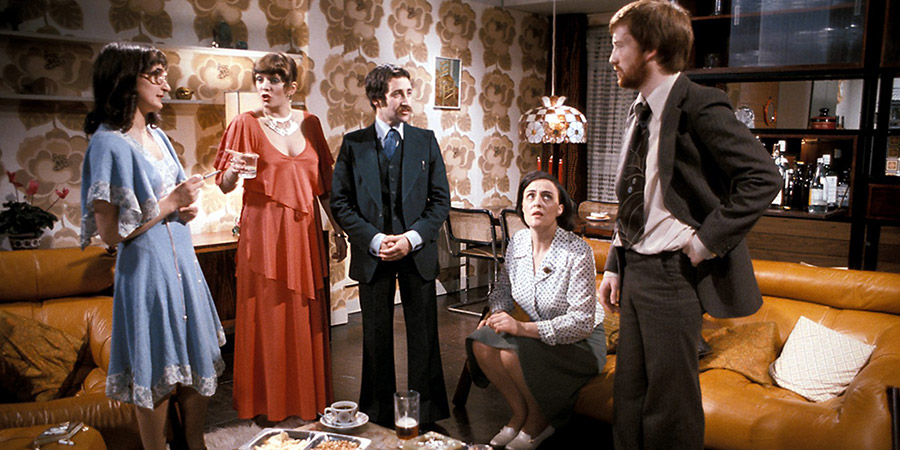 MEANTIME (1983) – CINEMA
The epitome of classic working-class-kitchen-sink-council-estate tragic-comedy, Meantime, features a "Who's-Who" of now famous actors including: Gary Oldman, Tim Roth, Phil Daniels, Alfred Molina; plus an early appearance from Leigh favourite Peter Wight. Set amidst the bleak concrete landscape of East London the episodic story focusses on the Pollock family, notably the unemployed brothers portrayed by Daniels and Roth. The former is an answer-for-everything-clever-dick while Roth's Colin is the more subdued, shy and possibly autistic one, very much in his brother's shadow. Furthermore, a very young-looking Oldman pops up as a bored, thuggish, glue-sniffing and racist skinhead who bullies those around him, especially Colin. Overall, Meantime evokes memories of my own childhood growing up on a rough Battersea council estate and captures the ennui and inertia of unemployment in Thatcher's Britain. While it may sound depressing there's also some classic dialogue and a number of hilarious exchanges between the family and characters which certainly silvers the dark, grey clouds on the horizon.
NAKED (1993) – CINEMA
We need to talk about, Johnny! Arguably, of all the characters and creations from Mike Leigh, Johnny Fletcher is the darkest manifestation and representation of his worldview. Unlike the permanently positive Poppy from Leigh's Happy Go Lucky (2008), Johnny is a dress-in-black, biting and bilious shadow who drifts like smoke from North to South with no aim other than to attack those around him. Sardonic and severe in his outlook, Johnny's misanthropy knows no bounds as he angrily castigates his ex-girlfriend's lack of ambition, portrayed by Lesley Sharp, before beginning a doomed sexual liaison with her flatmate, the self-hating Sophie (Katrin Cartlidge). It is not an easy film to watch due to the flagrant and offensive misogyny exhibited by the male characters and the seeming lack of hope throughout. Yet, it remains a compelling portrait of pre-millennial nihilism with some epic monologues delivered by the rasping and mercurial voice of David Thewlis' in a never-to-be-bettered acting performance.
SECRETS AND LIES (1996) – CINEMA
After the nihilistic dissonance of Naked (1993) Leigh's next film would return to familial roots and gentler, if still emotionally resonating, domestic drama. The story centres on Marianne Jean-Baptiste's optometrist attempting to locate the birth mother who gave her up for adoption. In an extremely tender and serene performance, Baptiste as Hortense Cumberbatch finds her search turn up unexpected results. Brenda Blethyn, in the more melodramatic role of Cynthia Purley, runs the gamut of emotions; while the imperious Timothy Spall steals the floor with his noble rendition of Cynthia's brother, Maurice. Spall's Maurice is an ordinary, yet noble man, trying to hold the disparate family strands together. I especially loved the opening vignettes of Maurice's photographic customers which established themes of surface appearances contrasted to hidden family secrets. This overall is what I class as a small epic containing so many brilliant character details, funny looks, and very touching moments where the emotion, quite often, is in the silence. Secret and Lies (1996) was, to date, Mike Leigh's most accessible and emotionally satisfying film and would deservedly garner acting and directing awards and nominations from the Academy, BAFTA and Cannes.
VERA DRAKE (2004) – CINEMA
Having presented the lively Topsy Turvy (1999) world of Gilbert and Sullivan a few years before, Leigh created another period piece with Vera Drake. Set in 1950s London it centres on Imelda Staunton's kind housewife who harbours a secret life. Amidst her family and work existence Vera assists young woman who accidentally get in the "family way". I don't want to say too much but this is a gut-wrenching and tragic story which highlights the issues of the day with a stunning emotional power. Imelda Staunton is one of the best actors I have ever witnessed on stage and screen and she brings to Vera's character sympathy, pride and passionate inner strength. The supporting cast of Philip Davis, Eddie Marsan, Daniel Mays, and Sally Hawkins are superb; and a special mention to cinematographer Dick Pope, who has lit most of Leigh's films. Pope creates, within a palette of greys, greens and browns a salient mood which enhances the performances and Leigh's masterful direction.
Mike Leigh's new film PETERLOO (2018) will be released this year in cinemas.