MY CINEMATIC ROMANCE #2 – JULIANNE MOORE
**SPOILERS AHOY**
Following my tribute to Ryan Gosling a while ago the second in my little paeans to cinematic people I admire is the wonderful Julianne Moore. Here I pick out seven memorable performances which make me fall in love with her over and over again.
SHORT CUTS (1993)
Moore is a versatile actor who, along with appearing in some cinematic classics, has been in some right old tosh over the years. However, SHE is ALWAYS great in EVERYTHING! She can do vulnerable. She can do funny. She can do romance. She can do sexy. She can do sweet. She can do evil. And boy can she do neurosis! My earliest memory of her was from Robert Altman's fractured ensemble classic Short Cuts where she spends a lot of time naked from the waist down. It certainly took er… balls for Moore to take on such a role and she is a stand-out as an artist on the edge of a nervous breakdown.
BOOGIE NIGHTS (1997)
I still think this is Paul Thomas Anderson's best film. Well, it's my favourite of his brilliant oeuvre. I mean it takes some kind of genius to make a film about the porn industry and imbue it with heart, humour, sexuality, Oedipal tragedy and humanity without poking fun and merely relying on smut or underlying sleaziness. Moore portrays "Amber Waves" the tragic mother-figure of the porn "family" who, estranged from her own young son, provides emotional support to the young porn actors such as Rollergirl and Dirk Diggler. She is wonderful as a pained addict trying but failing to achieve a conventional lifestyle, instead finding comfort and solace with Burt Reynolds' led dysfunctional troupe of sex actors.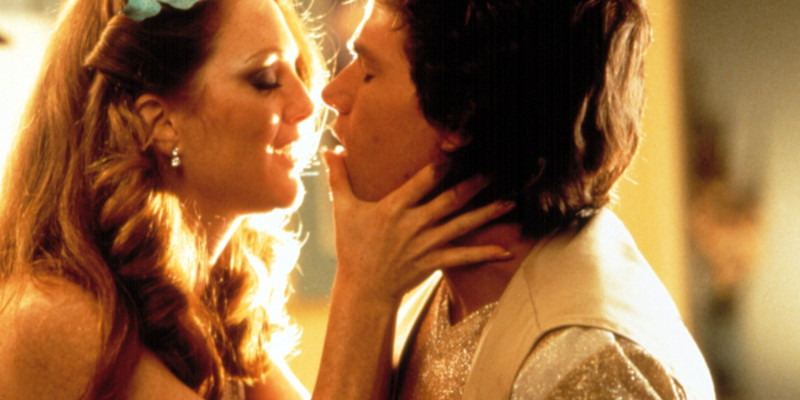 THE BIG LEBOWSKI (1998)
Much has been made of Jeff Bridges wonderfully comic and laconic i.e. stoned-off-his-nut performance in the Coen Brothers' much-adored cult classic The Big Lebowski, but the many idiosyncratic supporting characters deserve praise too. The film is a delightful patchwork of eccentricity and none more so than Moore's Maud Lebowski – a privileged, upper class artist who seduces The Dude in a strange side-story to already hyper-convoluted kidnapping-gone-wrong-right plot. The Coens' satirise rich artistic types via Maud as she too as uses The Dude to her own ends. Moore dominates the screen with her witty portrayal and even ends up in one of The Dude's hallucinogenic dreams as a Viking goddess of some sort.
MAGNOLIA (1999)
Paul Thomas Anderson's does Altman's Short Cuts up to eleven with a modern mosaic of human dysfunction, loneliness and tragedy. It's a difficult but compelling watch as Anderson removes the humour palette, so richly used in Boogie Nights, to present a cross-section of characters each struggling with existential and familial estrangement. Moore role is a risky one inasmuch as she is a self-confessed adulterer who married for money and only now — with her elderly husband (Jason Robards) about to die — does she feel any kind of remorse. It's a complex character who you feel little sympathy for — even when she attempts suicide — but as car-crash humanity and drama go it's difficult not to be drawn in by her incredible performance.
END OF THE AFFAIR (1999)
An amazing feat of literature from Graham Greene is adapted into a heart-cracking film by Neil Jordan; full of eroticism, stellar cast, lingering looks, exquisite photography and elegant Michael Nyman score. I watch a lot of films and am not often moved emotionally but the doomed love affair between Moore and Ralph Fiennes really gets my tear ducts on the go. Love is very difficult thing to get right on the silver screen but the intensity of the acting really is a thing of beauty. There's been some amazing love stories set during wartime down the years but this has to be one of the most memorable. Moore was deservedly nominated for an Oscar but lost out to Hilary Swank.
FAR FROM HEAVEN (2002)
Todd Haynes pristine Sirkian melodrama is a honourable pastiche of 1950s films in both form, setting and content. It sees Moore wearing the skin of Cathy, a neglected American rose, who ventures into a forbidden love affair with local gardener Raymond Deagen, (Dennis Haysbert). Once again, Moore is drawn to a character who is pushed to the outside of society, her character becoming a victim of gossip and recrimination within a closely knit bigoted community. American small-town attitudes to race and sexuality are critiqued with director Todd Haynes beautifully designed colour palette and cinematography contrasting the dark subtext at work. Moore was rightly nominated for another Oscar but lost out to Nicole Kidman's prosthetic nose.
THE KIDS ARE ALRIGHT (2010)
This was a laidback, fun kind of movie which found Julianne Moore in a relationship with Annette Bening's obstetrician. It's a lower-budget independent gem with a fine cast including: Mark Ruffalo, Mia Wasikowska and Josh Hutcherson. The story finds Moore and Bening's sperm donee children searching for their father (Ruffalo) and the ensuing first world drama and "chaos" this brings. Moore's budding landscape gardener plays a relatively sane character as she argues with the children and the more dominant Bening, before falling into bed with the more Bohemianesque character of Ruffalo. Moore 's character suffers a minor mid-life crisis compared to other cinematic meltdowns in her oeuvre. Nonetheless, her kind, natural, earth-mother performance is very enjoyable. Fear not though it would appear in her latest film — David Cronenberg's Map to the Stars (2014) — finds her back on full neurotic alert as an actress flailing in the age-conscious, superficial Hollywood system.