SCREENWASH – BBC DRAMA REVIEWS
Over the past few months I've focussed my extra-curricular viewing on BBC produced dramas via the BBC channels and catch-up on Netflix. The British Broadcasting Corporation, being the public-service-tax-payer-funded-beast that it is has a commitment to produce quality programming for national viewing and also overseas sales too. I then got to thinking; why not check out where some of my £12.12 per month money goes. So, here are some bitesize reviews of recent BBC dramas with marks out of the usual eleven.
**CONTAINS MILD SPOILERS**
THE CHILD IN TIME (2017)
Based on Ian McEwan's prize-winning novel this was an interesting drama which worked in many respects but did not quite connect in others. Benedict Cumberbatch and Kelly McDonald are parents whose child goes missing while out shopping. The drama and grief of this was very well evoked but the supporting story of a publisher's regression and mental collapse did not quite thematically meld for me. No doubt McEwan's original source is a master work and I enjoyed many of the emotional moments provided by the excellent acting. (Mark: 8 out of 11)
DOCTOR FOSTER – SEASON 1 (2015) + SEASON 2 (2017)
Suranne Jones is absolutely stunning in this domestic drama written by Mike Bartlett. She acts her heart and soul out as the eponymous GP, who in the face of her husband's suspected infidelity, attempts to find both the truth and maintain her family unit and sanity. It's a brilliantly written TV series which creates great drama from the "whodunnit" aspect of the potential spousal treachery. Plus, in addition to the Hitchcockian elements Dr Foster herself is very unpredictable in her actions; making for some nail-biting scenes. Bertie Carvel also excels as the charismatic husband and the second season, while not reaching the emotional heights of the first, and feeling more contrived, had some decent dramatic twists too.
(Season 1 – Mark: 9.5 out of 11)
(Season 2 – Mark: 8 out of 11)

LONDON SPY (2015)
The always-impactful actor Ben Whishaw is superbly supported by thespian giants Jim Broadbent and Charlotte Rampling in this obtuse spy thriller. Playing a troubled warehouse worker called Danny, Whishaw falls for the enigmatic genius, Alex (Edward Holcroft); and is thrown into a murky and murderous world of spymasters and upper-class family feuds. Beautifully acted and designed the story moved too slowly for me. Over five episodes the slow-bleed plot of character despair, double-crosses and cover-ups did not sustain the suspense and tension throughout. (Mark: 7.5 out of 11)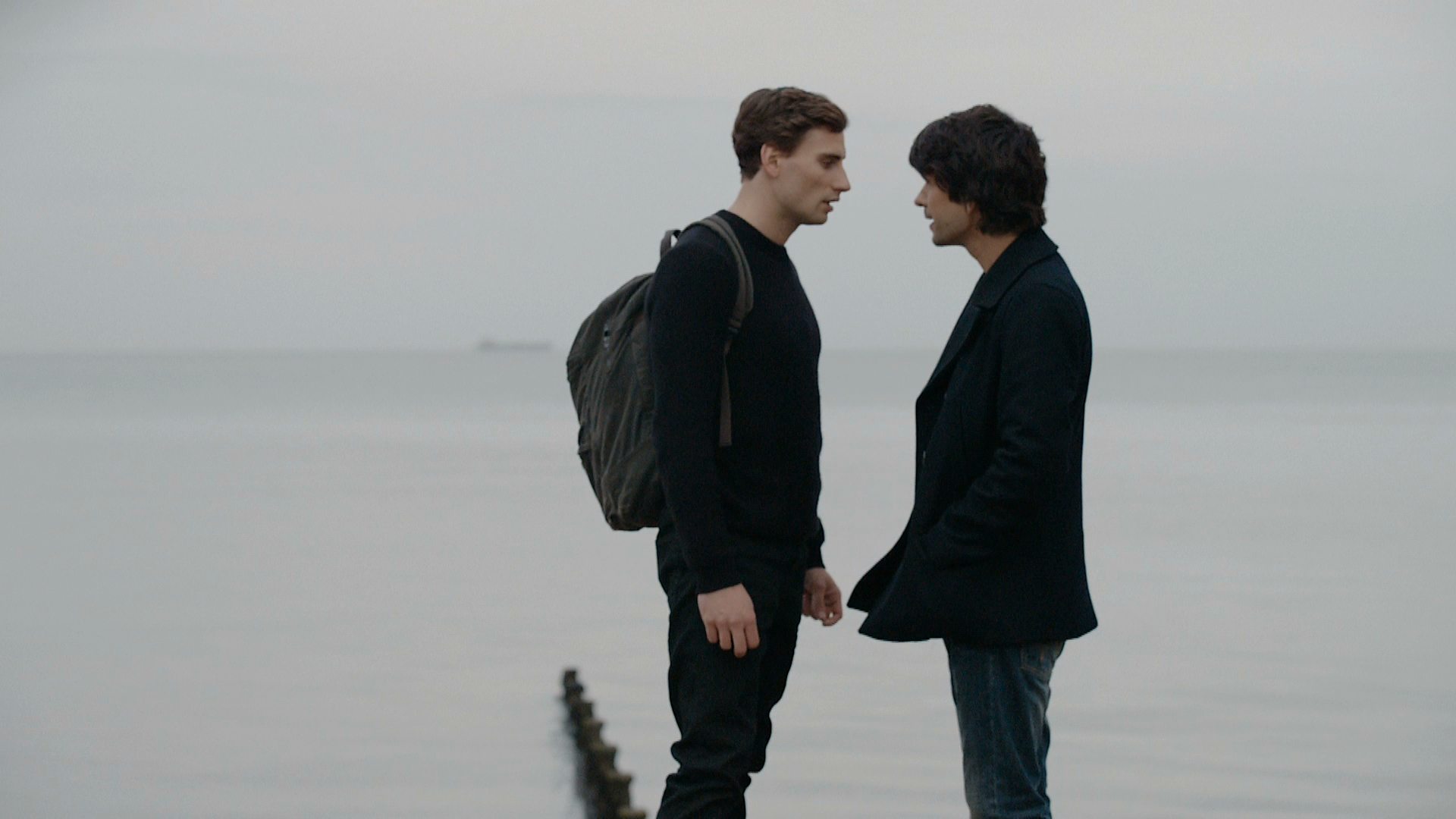 THE SECRET OF CRICKLEY HALL (2012)
Suranne Jones (again!) leads the acting line in an earlier post-Coronation Street role. She portrays a mother who, along with her family, seeks the solace of the countryside after their young child has gone missing. However, the house they reside in is haunted by ghosts from the past and as the family attempt to overcome their grief, evil spirits threaten their present. The contemporary narrative works well with the wartime scenes in a decent haunted house scenario that was adapted from the book by horror legend James Herbert; also featuring an early role for Maisie Williams. (Mark: 7.5 out of 11)
SMALL ISLAND (2009)
Notable for its excellent ensemble cast and featuring before-they-were-famous roles for: Ruth Wilson, David Oyelowo, Naomi Harris, Benedict Cumberbatch and Ashley Walters, this excellent drama focussed on the war and post-war lives of several disparate characters whose lives become intertwined by fate. Based on Andrea Levy's novel it is especially rich in regard to the diasporic characterizations and experiences of Jamaican immigrants in war-torn England. The writing is solid and there's some fine acting and emotional moments to keep one enthralled and I enjoyed how the stories dovetailed dramatically at the end. (Mark: 8 out of 11)
TOP OF THE LAKE (2013)
Hey, what if Jane Campion wrote and directed a cop drama? Well, the answer is Top of the Lake! This is a slow-burn, who-why-how-dunnit with a superb cast, beautiful New Zealand vistas and eccentric, dark characters. Some may find it too slow and artsy, while certain decisions by the characters and plot turns were intriguingly weird. However, Elizabeth Moss excels as the burnt-out cop (is there any other kind?) searching for a missing pregnant teenager, while Peter Mullan is suitably vicious as the rural patriarch; and Holly Hunter is fantastic too as the leader of a women's commune. Overall, Campion's barbed world-view satirizes humanity and cop show clichés in a compelling crime drama. (Mark: 8.5 out of 11)
TOP OF THE LAKE 2: CHINA GIRL (2017)
Screened earlier this year on the BBC, the follow-up finds Elizabeth Moss, now back in Sydney, tracking down the killer of an Asian prostitute while battling illegal adoption rings and all manner of sexist-pig-men. Like the original it pulls you in with its richly drawn characters and brilliant cast all committing to the lurid and quirky plotlines. Moss is always reliable and does the brooding, melancholic and troubled cop perfectly, while Nicole Kidman is brilliant as the middle-class academic out of her depth with the emotions of her adopted daughter. The sinister beta-male-nemesis Puss portrayed by David Dencik was a great rendition of spurious masculinity while it was great to see Gwendoline Christie out of her Game of Thrones armour, as a naïve rookie cop assisting Moss' detective. (Mark: 8.5 out of 11)
TRUST ME (2017)
Jodie "New Doctor Who" Whittaker leads the cast as a downtrodden nurse and single-mum struggling with an NHS cover-up over poor service delivery. Faced with the sack she decides to engage in a cover-up herself by taking on the identity of a Doctor; and then the real drama kicks in. Whittaker is very empathetic and natural, while the suspense was very thrilling at times as her character gets deeper and deeper into the mire. Overall, it was a very tense and fun medical drama which made some very good social points in regards to a Doctors' life and the NHS in general. Ultimately, it made me appreciate what the NHS does for us but also want to avoid getting ill in the future too!
(Mark: 8.5 out of 11)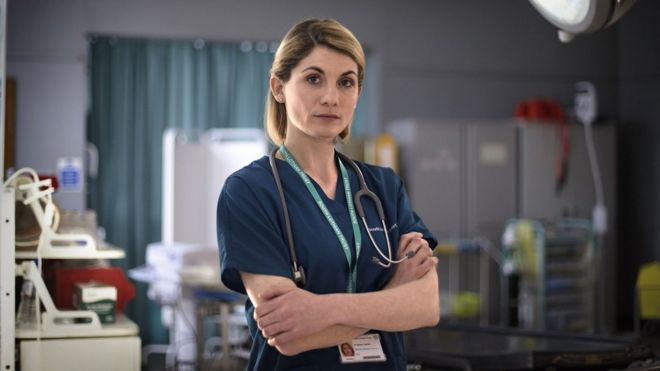 WAR AND PEACE (2016)
Well, the BBC certainly pushed the budget boat out on this one with a who's who of new and experienced acting talent including: Jim Broadbent, Paul Dano, Lily James, Tuppence Middleton, Aneurin Barnard, Adrian Edmondson, Jessie Buckley, Tom Burke, Rebecca Front, Greta Scacchi, Brian Cox, Stephen Rea, Gillian Anderson and many more. Adapting Tolstoy's gigantic and classic doorstop novel must have been some feat and it is indeed and sumptuous and incredible production. As a drama it drew me in with its' stories of over-privileged Russian lives set during the Napoleonic wars as they live, love, cheat, duel, war and die. Yet, while I did not feel too much empathy for the characters, the acting, design and directing is a joy to behold and I garnered a certain hypnotic pleasure bathing in the high quality of the whole shebang. (Mark: 8 out of 11)