SOUTH PARK: SEASON 21 (2017) – TV REVIEW
Directed by: Trey Parker
Produced by: South Park Studios
Written by: Trey Parker
No. of episodes: 10
Release Date: September 13 – December 6, 2017
UK Release: Comedy Central
**CONTAINS MILD SPOILERS**
In this stinking cesspool of a world run by greedy corporations, bringers-of-war and crazed megalomaniacs it's important one finds some solace with which to hide from the slings and arrows of this venal society. Indeed, one has to keep an eye out from the barricades and parapets, holding out a shield to deflect, and mirror to reflect, the emotional barbs of every day existence. One such means of deflection is to laugh at the world and its leaders, gods, physicians, media outlets and political snake-oil salesmen, who twist and dance and continually sell us bullshit on a daily basis.
Television is a valuable tool with which to cocoon one's heart and mind against the stream of negativity and injustice brought down up on us within the oppressive capitalist system. It gives us a chance to laugh and cry at the world through comedy and drama. One such longstanding shield against the tide of money and war is the always-relevant South Park. For twenty-one seasons it has now poked, prodded, electrified, boiled and defecated on the sacred cows of civilisation such as: religious figures, moronic yet dangerous politicians, gluttonous fats cats, media whores and narcissistic plastic celebrities.
After the incredible satirical and narrative success of Season 19 (review here), where showrunner Trey Parker committed to a superlative serialization structure the bar was raised very high. Thus, Season 20 (review here), suffered in comparison as it over-egged the pudding somewhat with a convoluted multi-stranded plot dominated by internet cyber-trolling. Nonetheless, South Park, even firing at three-quarter' capacity is funnier, on-point, and more scathing than any show out there.
As South Park is a phenomenal staple of my televisual calendar I was very happy when: Cartman, Stan, Randy, Cartman's mum, Wendy, Butters, PC Principal, Kyle, President Garrison et al were back in Season 21 with satire of the highest order! Moreover, gone was the complex interlinking plots and in this run we experienced some wonderful stand-alone episodes which ran a zeitgeist hyper-link to many of the cultural, political and social events of 2017.
The one thematic web which was woven through the ten shows was Cartman's dysfunctional and destructive relationship with his girlfriend Heidi. This narrative found Heidi actually becoming a female Cartman much to the other kids' horror. Here, the writing mined some familiar, almost soap-operatic, but mature story lines to much satisfaction overall; especially in episode 7, Doubling Down, and episode 8, Moss Piglets.
Season 21 was, in keeping with the previous 20 seasons, crammed to the brim with references to media and socio-political culture, while also being fucking hilarious. The opening episode White People Renovating Houses poked humour at the latest Alexa culture and the hailstorm of "flipping" property shows. While Randy, the hare-brained addict, became obsessed with genetically re-correcting his heritage in the hilarious 3rd episode: Holiday Special.
Of course the kids took centre stage in many of the shows, notably Franchise Prequel, where their superhero alter egos – scurrilously led by Cartman's 'Coon' – attempt to get their own Netflix and movie franchise off the ground to rival Marvel and DC. Mark Zuckerberg makes an appearance as a goofy, geeky Scott Pilgrim-type-video-game-end-boss too. Here the seeming bottomless pit of money that is called Netflix is also amusingly slated; mainly due to apparently green-lighting any project irrespective of its' quality.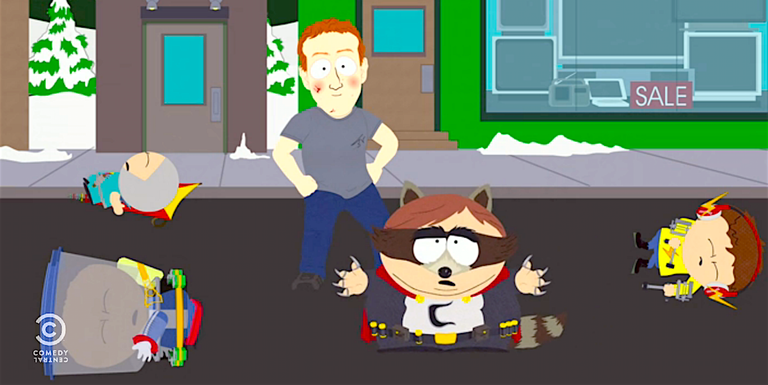 Trey Parker and his team took many swipes at the egregious political and, arguably hysterical social media "movements". In episode 6, Sons of Witches the Harvey Weinstein "situation" was skewed, with all parties involved: men, women and social media keyboard warriors critiqued with much humour. Of course, based on the evidence presented in the media, Weinstein is a stain on humanity, a sexual animal exploiting his powerful position and money-balls! But Sons of Witches was keen to point out that while many men are dicks, they are not ALL bad witches so perhaps some calm and perspective is also required.
While the final two episodes Super Hard PCness and Splatty Tomato ended with President Garrison gone into hiding due to the bombing of Canada, the episodes also had some fine gags on recent horror adaptations It (2017) and Stranger Things (2017). But my favourite episodes of the series were Put It Down, which put the boot into that moron in the White House and his inexplicably dumb twitter feed that spews out an inordinate amount of bile and idiocy. Finally, episode 5, Hummels & Heroin, brilliantly satirised prison movies by transplanting the genre tropes to an old people's home; advocating ire for pharmaceutical companies pushing drugs on old people and damning poor medical practices.
What makes South Park great and still valid is it does not takes sides. The liberal left and fascistic right are all shown to be, in certain circumstances, controlling and hysterical. Trey Parker and his team do not respect authority or celebrity or media fads or political correctness or social bandwagons; so long may their intelligent, crass, scurrilous, scatological, offensive, all-singing, all dancing satire continue! With Trump in the White House some may say satire is dead but we need the South Park team alive to protect us from this slew of never-ending societal insanity and above all else: MAKE US LAUGH!
(Mark: 9.5 out of 11)