TO BOLDLY REVIEW #10 – STAR TREK: NEXT GENERATION (1991 – 1992) – SEASON 5
Based on Star Trek & Created by: Gene Roddenberry
Season 5 writers (selected): Michael Piller, Michael Wagner, Rick Berman, Jeri Taylor, Lee Sheldon, Melinda Snodgrass, Richard Manning, Ronald D. Moore, David Bischoff, Joe Menosky, Drew Deighan, Brannon Braga, J. Larry Carroll, Hilary J. Bader, Harold Apter, Stuart Charno, Sara Charno, Maurice Hurley, Susan Sackett, Sara Charno, Stuart Charno, Randee Russell, Peter Allan Fields, Rene Echevarria etc.
Season 5 directors (selected): Jonathan Frakes, Winrich Kolbe, Corey Allen, Robert Weimer, Les Landau, Robert Scheerer, Cliff Bole, Paul Lynch, Chip Chalmers, Timothy Bond, David Carson, Gabrielle Beaumont, Patrick Stewart, David Livingston, Marvin V. Rush, Chip Chalmers, Peter Lauritson, Robert Lederman, Paul Lynch, etc.
Main Cast: Patrick Stewart, Jonathan Frakes, LeVar Burton, Whoopi Goldberg, Colm Meaney, Michael Dorn, Marina Sirtis, Brent Spiner, Wil Wheaton, Gates McFadden, Michelle Forbes, Majel Barrett, Rosalind Chao, plus guests: Matt Frewer, Ashley Judd, Kelsey Grammer and Famke Janssen etc.
Music/Composers: Alexander Courage, Jerry Goldsmith, Dennis McCarthy, Ron Jones, Jay Chattaway
Production Company(s): Paramount Television, CBS Television
**** CONTAINS SPOILERS ****
---
---
I have just finished boldly watching Season 5 of STAR TREK: THE NEXT GENERATION and it was an extremely excellent raft of science fiction television episodes. I have to say though that TWENTY-SIX episodes was a hell of a lot of TV to produce. I know they had big budgets and an army of staff working on the show, but to produce such high quality viewing, albeit within the established formula, is overall incredibly impressive.
Season 5 was up there in consistency of quality writing, acting and directing with the superlative Seasons 3 and 4. Once again the creatives and storyline team explored issues of the day (i.e. 1990s) and married them to the STAR TREK values and philosophies. Of course, we get the usual alien enemies, such as the Romulans and Ferengi, paying a visit to the Enterprise. Yet, we also found new foes, obstacles and allies encountering the Enterprise. Lastly, the formidable Michelle Forbes as the Bajoran, Ensign Roe, was a welcome addition to the crew.
Sadly, Gene Roddenberry passed away during this particular season's making. This would cause create sadness in the STAR TREK universe, but the production was, by now in very safe hands, as they paid fine tribute to their creator during Season 5. Here are SIX of the best episodes well worth visiting or revisiting. Live long and prosper.
---
REDEMPTION – PART II – EPISODE 1
The concluding part to the prior season's cliffhanger found Lt. Worf (Michael Dorn) continuing to fight for honour alongside his brother, Kurn (Tony Todd), against the Duras hordes. There are many moments of high tension throughout the episode with Dorn impressing again as the divided, but ultimately united and redeemed Klingon. Overall, the episode is full of memorable plot turns and fantastic Romulan and Klingon villains, notably Lursa and B'Etor.
---
UNIFICATION – PARTS I & II – EPISODES 7 & 8
Chosen more for nostalgia as opposed to stellar storytelling, UNIFICATION is a two-parter which sees the return of a famous Trek character, namely Spock (Leonard Nimoy). We also get Mark Lenard's final appearance as Spock's father, Sarek, as he and Picard (Patrick Stewart) share a thoroughly moving final scene together. The story finds Spock attempting to repair years of conflict between Vulcans and Romulans, however, Starfleet believe he has defected. Thus, Picard and crew attempt another search for Spock. The narrative pace is steady, nonetheless it is great to see Nimoy don the ears and ultra-logic for a further outing as Spock.
---
---
CONUNDRUM – EPISODE 14
While STAR TREK: THE NEXT GENERATION had more than its fair share of emotionally powerful episodes, sometimes a fast-paced and twisting plot with a bit of space espionage was more than welcomed. In CONUNDRUM, the Enterprise crew have their memory wiped by an unknown force dedicated to destroying an alien race. The audience finds suspense and dramatic irony in knowing the crew's minds have been tampered with as they race against time to prevent war. Riker (Jonathan Frakes) and Ensign Ro's (Michelle Forbes) simmering sexual tension adds romance and humour to a packed storyline.
---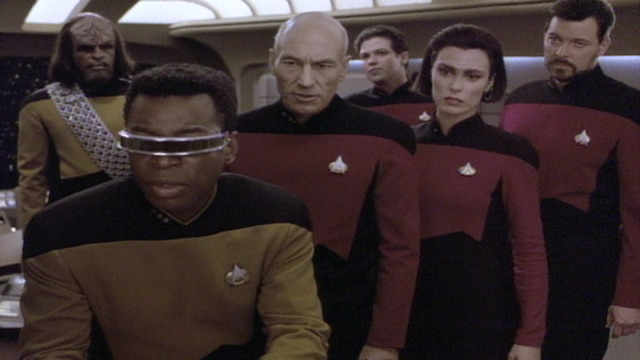 ---
CAUSE AND EFFECT – EPISODE 18
Easily one of my favourite TNG episodes of this and many a season. This is because it features a fantastic temporal-causality loop plot and extremely high stakes where the Enterprise is concerned. Here the crew are trapped in a perpetual time cycle where the end of it results in the destruction of the Enterprise. Essentially GROUNDHOG DAY (1993) in space (even though this episode came before that classic film), it truly fizzes along with a brilliant script and powerful drama. Kelsey Grammer also guests, adding to the overall quality on display.
---
---
I, BORG – EPISODE 23
Could an evil machine ever be humanized? That is just one of the fascinating questions posed in this thoughtful and provocative episode? While they owe much to the Cybermen, the Borg remain a powerful weapon in the STAR TREK storytelling arsenal. The only problem is they are virtually invincible, so tough to write stories for. Rather cleverly in I, BORG, the episodes isolates a single unit and Picard, Guinan (Whoopi Goldberg) and La Forge (LeVar Burton) especially, confront their hatred and desire for revenge. As the Borg unit, or Hugh (an excellent Jonathan Del Arco) as he becomes known, spends time on the Enterprise he positively changes. This provides much to consider for the crew with their emotions shifting toward Hugh/the Borg.
---
---
THE INNER LIGHT – EPISODE 25
Not only is this one of the best episodes of STAR TREK: THE NEXT GENERATION, but it is also one of the best episodes of STAR TREK ever. The story is precipitated by an unknown probe which scans the Enterprise and directs an energy beam at Picard, who wakes up to find himself on Kataan, a non-Federation planet. Here Picard attempts to escape his existence as Kamin, but over time he grows into this strange new life. What begins as a simple body swap plot, unfurls into something all the more emotionally grander. We know Patrick Stewart is a fine actor, but he imbues Picard/Kamin with a gravitas of enormous propensity. I also loved how Picard, the Captain, is humbled by a more domestic life full with life and love. Lastly, Jay Chattaway's score is absolutely beautiful.
---