CATS (2019) – CINEMA REVIEW
Directed by: Tom Hooper
Produced by: Debra Hayward, Tim Bevan, Eric Fellner, Tom Hooper
Written by: Lee Hall and Tom Hooper – Based on the stage musical Cats by Andrew Lloyd Webber and Old Possum's Book of Practical Cats by T.S. Eliot.
Cast: Jennifer Hudson, Francesca Hayward, Idris Elba, Judi Dench, Ian McKellen, James Corden, Rebel Wilson, Jason DeRulo, Laurie Davidson, Ray Winstone, Taylor Swift, etc.
Music by: Andrew Lloyd Webber
**MAY CONTAIN SPOILERS*
---
---
I think it's easy to be overtly negative and nasty in reviews, and that is fine in general, as long as you can justify it. What I have found though is there seems to have been an unhealthy pile-on this Christmas by critics in regard to the film Cats (2019). One could even interpret some reactions to the film as hysterical and unfair bullying. I, in no way have any reason to defend wealthy people such as Andrew Lloyd Webber or the director Tom Hooper. But, this review asks the question: is Cats (2019) a really bad film? The answer in short is: no! It's just not a particularly good one.
My wife loves musicals and was a fan of the original show. Personally, I don't like cats, nor musicals generally (there are exceptions); and did not know the original stage production either. So, my expectations were pretty low for the film. What I did know is the original musical stage production was one of the longest running musicals in the West End. Plus, it made grossed over £32 billion in various productions across the world. Clearly a film production would make commercial sense and with acclaimed director, Tom Hooper, at the helm — what could go wrong?
---
---
Firstly, it's an obvious thing to say that stage and screen productions generally work very differently. The original Cats was based on the poems of T.S. Eliot and was adapted organically in the 1970s by the likes of Andrew Lloyd Webber, Richard Stilgoe and Trevor Nunn. It was released in 1981 and became a phenomenal success. The narrative on stage and screen concerns a tribe of cats, inhabiting the streets, shops, theatres and homes of London, called the 'Jellicle Cats'. Each year there is a competition as to who will be given a new life and reach the Heaviside Layer. Imaginatively named characters such as: Rum Tum Tugger (Jason DeRulo), Bustopher Jones (James Corden), Mr Mistoffelees (Laurie Davidson), Grizabella (Jennifer Hudson), Old Deuteronomy (Judi Dench), Bombalurina (Taylor Swift) and many more litter the screen. Several of these characters compete via song and dance routines, but obstacles are introduced by the nasty nemesis, Macavity (Idris Elba).
As I did not know the original adaptation, I have to say that given the lack of a proper narrative, I am surprised the show took off in the first place. This is clearly a testament to the love felt for the many powerful songs in the show, notably the brilliant 'Memory'. The film itself is essentially a series of musical set-pieces with a very thin narrative and thematic thread throughout. The rules of the world and mythology are not very well established by Lee Hall and Tom Hooper's screenplay. In fact, there didn't seem to be much in the way of an opening introduction to the world. So, for me, the film fails to establish believable unbelievability and ease you into the fantasy elements properly. Basically, if you know the original production it is likely you will really enjoy the film. However, I felt it was creatively hamstrung from the start.
---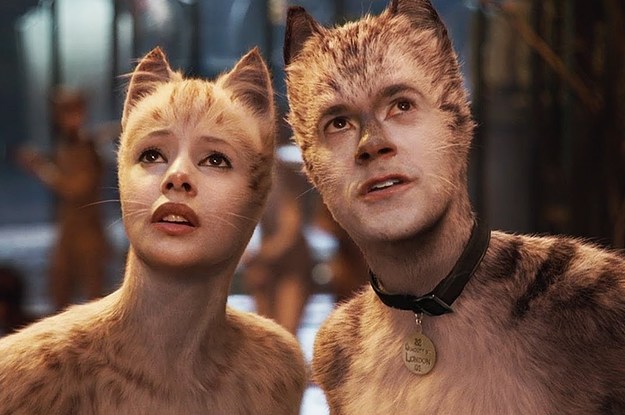 ---
Overall, much of Tom Hooper's rendition of Cats (2019) feels rushed in terms of the CGI, the editing, pacing and general flow of the action and events. The first forty minutes sees a flurry of songs from various characters and this left me dizzy. However, there are some excellent set-pieces, rousing compositions, flashy choreography and impactful singing performances in here. Taylor Swift, Jennifer Hudson and Idris Elba I felt were excellent. The rest of the cast, performers and production team also commit wholeheartedly to the project too. They cannot be faulted for certain creative decisions made at studio level. Indeed, whose idea was it to even release the film at Christmas when the Star Wars franchise is likely to defeat all cinema competition.
Maybe the film could have worked better as a lower budgeted, intimate and more stripped-down production. Moreover, while they attempted to include narrative exposition via the character of Francesca Hayward's innocent stray, Victoria, the film still felt bereft of story. But, as it's based on a set of poems, this is case with the original show too. Lastly, while Cats (2019) valiantly attempts to deliver a fun, humorous, emotional, energetic and fresh take on the stage show, it does fall short in many places. However, given the catastrophic reviews online and in the media in general, I have to say that it is genuinely enjoyable in places and not as bad as it's being made out to be. It is still shocking though that such experienced producers and filmmakers would release what appears to be a dog rough work-in-progress product. It just goes to show that however talented you may be, no one is purr-fect!
Mark 6 out of 11
---