APOCALYPSE CINEMA – VISIONS OF POSSIBLE FUTURES
"It's the end of the World as we know it – and I feel fine!" Michael Stipe
---
With the world gripped by the COVID-19 virus threat one's mind can run amok and look to possible futures. Thus, I thought it interesting to explore some visions of the Apocalypse as seen on the film. I mean you have to hand it to humanity; it's able to distract itself from the possible end of the world by creating stories and entertainment ABOUT the end of the world!   Here's TEN of the best I could think of.
***CONTAINS MASSIVE SPOILERS***
---
---
NIGHT OF THE LIVING DEAD (1968) – UNKNOWN CAUSE
George Romero's seminal classic zombie film gave birth (and death) to a whole subgenre of horror films. The low budget is no barrier to an ingenious concept involving the dead rising up and attempting to wipe out the rest of humanity. Both powerful as a horror narrative and social commentary, it remains one of the most influential films of all time.
---
---
PLANET OF THE APES (1969) – NUCLEAR WAR
Poor old Charlton Heston never had much luck with the future as his characters often ended up in dystopian visions of hell. Such films included: Soylent Green (1973), Omega Man (1971) and the classic Planet of the Apes, where simian humanoids are running the planet and enslaving the savage natives. One of the great sci-fi epics with probably the greatest film ending of all time, the film remains a timeless vision of the future.
---
---
MAD MAX: ROAD WARRIOR (1981) – NUCLEAR WAR
In between the road-raging original and this brilliant sequel there was some kind of global nuclear meltdown hitherto bringing about a dusty wasteland where fuel is God and humans will kill to get their hands on it!  Out of the dust rises a reluctant hero, Max Rockatansky (Mel Gibson), who strives to survive while battling hordes of petrolheads, psychos and punks! Definitely one of the best sequels of all time, George Miller spectacularly remade it with the equally pulsating Fury Road (2015).
---
---
THE TERMINATOR (1984) – ARTIFICIAL INTELLIGENCE
Bloody Internet, sorry Skynet!  We create these wonderful computers to help us with everyday life including our Missile Defence Systems and they turn on us!  Only a Mother and her child – who hasn't been born yet – can save us from a life of death and slavery at the hands of the machines. Cameron's seminal sci-fi action film delivers an unforgettable feast of story, concepts and emotion, containing in Sarah Connor's, one of the best character arcs of all time.
---
---
THE MATRIX (1999) – ALIEN MACHINES / ARTIFICIAL INTELLIGENCE
Damned alien machines enslaving humanity and feasting on our fluids and organs for energy in some sick, twisted vision of a futuristic Harvest festival. Then again, compared to some of the shitty office jobs I've had I think I'd choose the "Matrix" over those; just don't tell me I'm in the Matrix! Neo (Keanu Reeves) chose the other pill and it's a good job he, Morpheus and Trinity did, because we get some kick-ass slow-motion action out of it.
---
---
WATERWORLD (1995) – GLOBAL WARMING
In this future we will basically live in the water and grow gills. Also, pure dirt and water will be our most priceless commodity. Well, that's what will occur according to this apocalyptic-polar-ice-caps-melting-earth-swimming-pool-with-pirates movie. At the time it was one of the most expensive film flops in history, but IT actually wasn't THAT bad. Kevin Costner plays a softer and more soaked version of Mad Max, while Dennis Hopper chews up the scenery as the over-the-top Napoleonic baddie at sea.
---
TWELVE MONKEYS (1995) – DEADLY VIRUS
Seeing someone close to you die in front of your eyes as a child is not a future you really need is it?  But what if THAT person is. . . Following the opening of this brilliant film, the plot centres around future prisoners being sent back in time to find the cause of the deadly viral apocalypse. The awesome mind of Terry Gilliam filtering Chris Marker's classic short La Jetée (1962), makes this an intelligent and exciting end-of-the-world blockbuster. Bruce Willis and Brad Pitt are on particularly good form too amidst Gilliam's frightening visuals.
---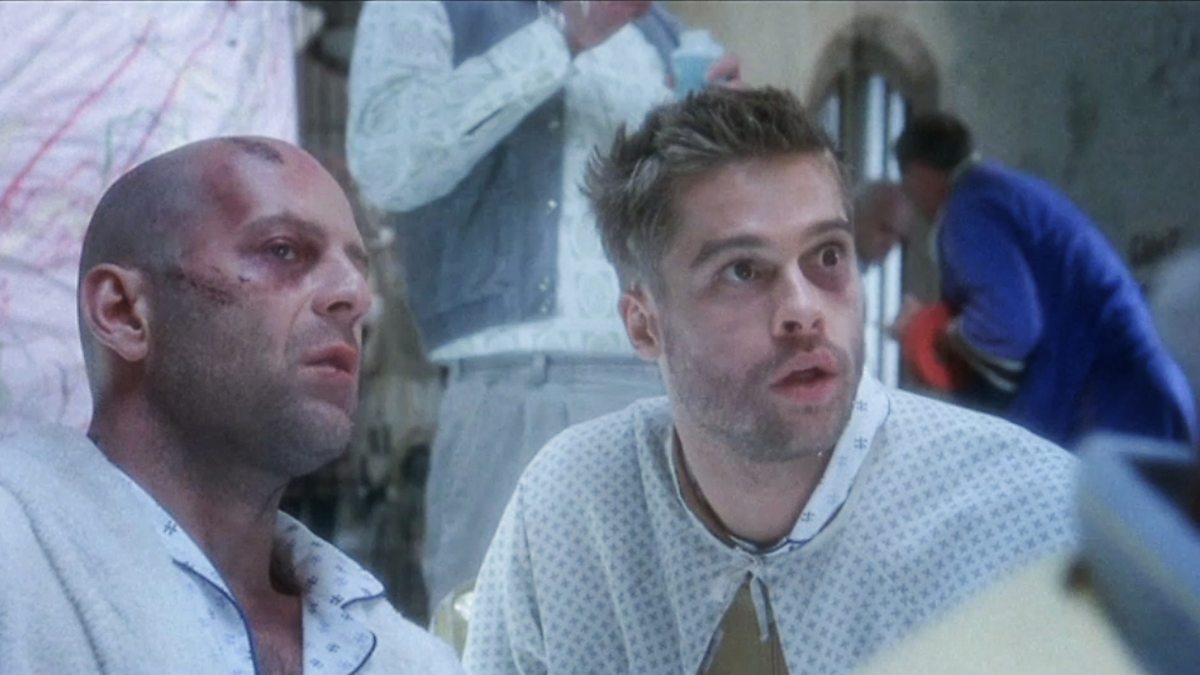 ---
28 DAYS LATER (2002) – RAGE VIRUS
Alex Garland and Danny Boyle's blistering British horror classic springboards a Day of The Triffids style opening as Cillian Murphy wakes up in a seemingly empty London. Alas, he is not alone as he finds, along with a ragtag bunch of survivors, the world has been populated with raging and rapid zombies hellbent on feeding. Boyle directs with a low budget, yet prodigious inventive flair in a modern-day monstrous classic.
---
---
THE WORLD'S END (2013) – ALIEN INVASION
The third in the Edgar Wright, Simon Pegg and Nick Frost 'Cornetto Trilogy' is often seen as the weakest of the three. That's because the first two are so strong, The World's End suffers slightly in their shadow. However, a stellar British cast all combine brilliantly as a group of friends reuniting to enact the same town pub crawl they had done year's before. It's just a shame a bunch of aliens have decided to take over the town at the same bloody time!
---
---
THIS IS THE END (2013) – BIBLICAL APOCAPLYPSE
The end of days has never been so hilarious and dumb as in this Seth Rogen and Evan Goldberg directed apocalyptic comedy. The stellar who's-who cast of rising Hollywood actors including: Jonah Hill, Rogen, James Franco, Craig Robinson, Jay Baruchel, Danny McBride plus many more cameos turns, all find themselves battling monsters, fiery sinkholes and each other, in an irreverent and gleeful disaster movie.
---
---