AMAZON TV REVIEW – THE ACT (2019)
Created by: Nick Antosca & Michelle Dean
Writers: Nick Antosca & Michelle Dean, Dan Dietz, Robin Veitch, Lisa Long, Heather Marion
Directors: Laure DeClermont-Tonnerre, Adam Arkin, Christina Choe, Steven Piet, Hannah Fidell, etc.
Cast: Joey King, Patricia Arquette, Chloe Sevigny, AnnaSophia Robb, Calum Worthy, Dean Norris, Denitra Isler, Margo Martindale etc.
Original Network: Hulu (US) – Starz/Amazon (UK)
*** CONTAINS SPOILERS ***
---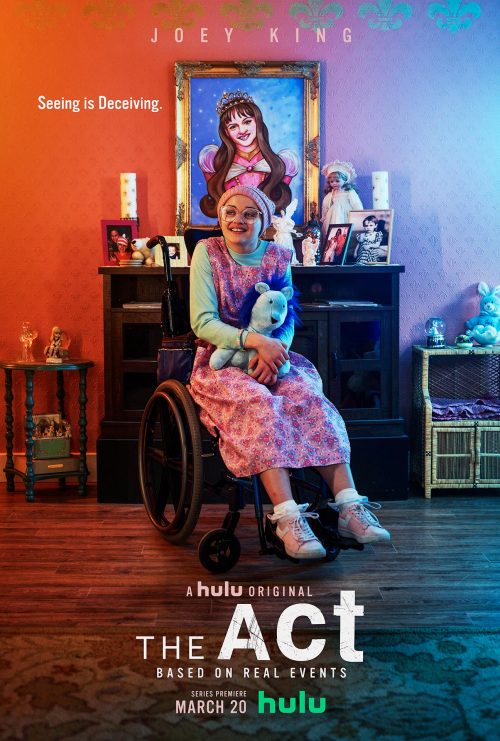 ---
The capacity for human beings to lie and fake and forge simply knows no bounds. Clearly lying is bad, as it disintegrates trust in families, relationships and society in general. We should all strive for truth. But before one judges and jumps to conclusions there can be mitigating circumstances for lies. It could be a good lie. A lie that protects someone from the horrors of reality or a bad situation. It could be a falsehood which is worth denying in order to circumnavigate a tricky moment. This last example is a subjective decision though. But what if you're not in your right mind? What if you have a mental illness? Does this forgive the darkest lies you tell or present? No, but it does explain why you've told such untruths.
Hulu's exceptional true-life drama, The Act (2019), centres on a character who is both a liar and mentally disturbed. You would not know from the outside but Dee Dee Blanchard (Patricia Arquette) was a very troubled person. A seemingly loving single mother to a teenage daughter, Gypsy Blanchard (Joey King), Dee Dee unfortunately has to cope with Gypsy's myriad of medical issues which leave her in a wheelchair and unable to feed herself. But Gypsy is actually incredibly healthy. Her mother has in fact been drugging and faking and benefiting financially from harming her daughter for years. Clingy, controlling and manipulative of her daughter's every movement, routine and personal interactions, Dee Dee never wants her daughter to grow up. She wants a permanently powerless child and vicariously feeds off all the sympathy this brings. Yet Gypsy is growing up and she wants to do her own thing. Her body is changing and so are her desires. Something had to give.
Over eight brilliantly written and directed episodes, The Act (2019), unfolds as a powerful human tragedy. The story begins in 2015 with a serious crime; someone has been hurt. It then flashes back to when Dee Dee and Gypsy moved from hurricane hit New Orleans to Springfield, Missouri in 2008. Moving consummately back and forth in time the structure builds the drama very well. I genuinely couldn't believe that someone would do that to their own child. Then, just when you think the story cannot twist any further the events take an even stranger and darker fall. Unsurprisingly, Patricia Arquette won an Emmy for her performance as the tragic faker, Dee Dee. Arquette inhabits the skin of this unhinged mother chillingly. But she's not a scary monster, more one that subtly gets right under the skin. Joey King as Gypsy is equally brilliant as the co-dependent daughter, ultimately driven to extreme and shocking behaviour by her mother's lies and twisted vision of love.
Mark: 9 out of 11
---